4. The After Party
"To The Premier League we're on our way"
25,000 Town fans wedged themselves into St Georges Square as club legends arrived fresh from the success of Wembley. The supporters, many with one hand in the air, the other clasping their umpteenth beer of the afternoon cheered a very special group of people back into Huddersfield. "THESE ARE LEGENDS, LIVING LEGENDS" roared David Wagner on the centre stage, and he was absolutely right. But there was more to this than success on the field. Writing as a Town fan of over 25 years, I've never seen or felt the bond and togetherness between the supporters and club like last season, it was genuinely phenomenal. The moment Michael Hefele strolled onto HTTV in the summer of 2016 wearing a dressing gown you could sense that there was something different and special about this group. Great personalities on and off the field lit up the football club and helped to make this something extraordinary, and I'm hesitant to say, a once in a generation or perhaps lifetime season.
It wasn't just the mix of hard working leaders, fantastic entertainers and zany Germans that helped bring the fans flocking back. The clubs mentality changed from being that of cowardice, to a club that wasn't afraid to have a go, one that now finally understood its fan base and it's needs and was willing to cater for it. Whereas David Wagner will quite rightly lap up the majority of praise, there has to be room for congratulations to those behind the scenes who made the season affordable, enjoyable and ones who listened to the needs of us supporters. I would also commend the great work of both David Threlfall-Sykes and Adam Tomlinson in documenting the memories of 2017/18 with some fantastic post match work. Much of which I have added to this article. Well done chaps!
What made the season and club so unique was a day like May 30th 2017. Whether you played, watched the games, managed the team or the ticket office, cleaned the kit, drove the team bus or documented the season, this celebration was for all of us, and we all celebrated together as one.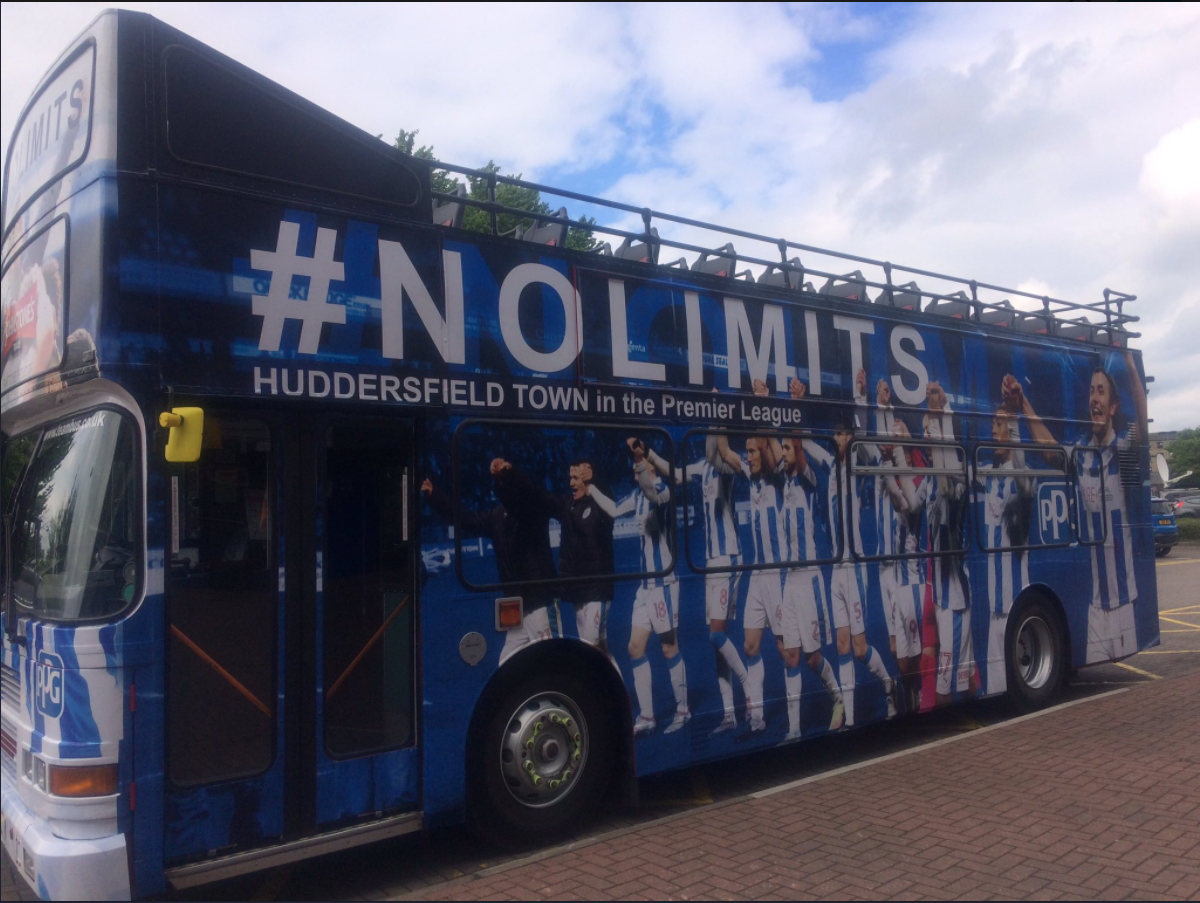 3. HUNGRY LIKE THE WOLFSBURG
"It's important for me to clarify that my focus is on moving forward at Huddersfield Town."
Many Town fans will be aware that Wolfsburg were eyeing up David Wagner in December 2016 but may not be aware of how close the club came to losing their talismanic manager and having last season completely derailed. At the time Wagner's family were still based in Germany and the temptation to go to Wolfsburg came through not just convenience, but via the German club courting 'Our Dave' via Wagner's German football agent who was also keen for Wagner to return home. Irked by the German clubs conduct during their pursuit, Town chairman Dean Hoyle came out swinging and to his enormous credit, along with Wagner's English agent John Morris won the managerial tug of war. Hoyle also broke his pay structure to tie down Wagner to another new deal in January 2017.
Town fans could finally breathe a sigh of relief when firstly Andries Jonker got the Wolfsburg job in February, and latterly when Wagner's family moved across and joined the great man in settling into the town.
"Huddersfield Town may not be a Bundesliga club or one that plays in European competition, but make no mistake – we are a serious, proud, ambitious club with a rich history. Perhaps this isn't clear to some of our colleagues in the media in Germany considering the tone of some articles that were published over the last 48 hours.

"We are not to be toyed with or dismissed out of hand. We have values and always conduct ourselves in the right manner; something that cannot be said for other clubs.
I absolutely love that statement from our Chairman! DEEEEEEEEEEEEEEEEEEEEEEEEEEEEANNNNOOOOOOOOOOOOOOOOO!

2. WARD SAVES! DANNY WARD SAVES!
"OOOOOOOOOOH FORESTIERI!"
The tickets for the game should have said "You are cordially invited to the Sheffield Wednesday procession to Wembley for The Championship Play off Final" such was the disregard for Town's chances of victory going into the 2nd leg. Three days earlier Sheffield Wednesday had stifled Town to a 0-0 draw at the John Smith's Stadium and there was certainly an air of "job done" surrounding Wednesday's chances in the media and amongst their own following, indeed many Wendy fans had already booked their hotels down Wembley way. Town's record against Sheffield Wednesday since David Wagner's arrival was hardly sparkling either. Prior to the 0-0 in the home leg, Town had lost all 4 previous matches against the side managed by Carlos Carvalhal. The focus of the SKY cameras was all on Sheffield Wednesday, and Town were supposed to be there as the sacrificial lambs to the common good of Wednesday's promotion charge.
Despite having the momentum, home advantage, players on bigger money, and 31,000 fans behind them, it was the home crowd who were quiet as The Terriers controlled the majority of the game until the 50th minute. Having employed a negative and direct approach, Wednesday's persistent diagonal ball game finally cracked Town's defence, and with that, out came the mobile phones on torch mode as Hillsborough descended into something akin to a One Direction concert.
Town's response was phenomenal. With an expensively assembled side with their tails up, and 31,000 'Steelmekkers' bouncing off of the walls of a famous old stadium it would have been so easy to crumble. I could name you dozens of Huddersfield Town sides and good ones too, that would have just withered into the night, but not this one. Not this David Wagner's side, no way. Town pushed back against the tide and then made the most important game changing substitution in the clubs history.
As penalties loomed you could feel something special happening, this was a team like no other in generations of Blue and White (or luminous green and black this particular evening), not the most skilful in their league, but one with such a strong bond and mental toughness and they stood tall and unyielding as 1500 of us watched on. The only Town side to come close to matching those traits was the 94/95 side, and some of them were with us in the stands. Boothy, Cowan and Trevitt watched on as the 16/17 brand showed as much fight and desire as they did at Griffin Park 22 years earlier.
All aboard the fun bus!
Every hero has a villain, and for Town there could be no more fitting person to miss the final and crucial Sheffield Wednesday penalty than Fernando Forestieri. Since signing for Watford in 2013 he had constantly given Town players the run around and his theatrical antics had always rubbed the Town supporters up the wrong way. However, as the Wendy fans exalted after Westwood saved Jack Payne's penalty, the ultimate sucker punch was bang on cue and Forestieri wouldn't be playing at Wembley, and instead left to charter a fun bus down the M1 as Danny Ward knee slid into Huddersfield Town legend.
Click on the left or right of the pictures to view more
1. AND HE TAKES THAT CHANCE!
"From a dream to a real chance, from a real chance to reality"
I always find the gap between The Play Off Semi Final and Final to be a tormenting time. Normal life takes a complete back seat as the football takes over the majority of my daily thoughts. But this 12 day period was something else. 45 years away from the big time, and with £170,000,000 at stake the tension was palpable. It had been a special journey from August 6th until May 29th, but now it had turned into a do or die mission. Win and the potential was unimaginable. Lose and well, we would have lost more than a game. We'd have lost our manager and probably half of the team, leading to a big rebuild job with no manager and no Director of Football Operations. The chances of us returning to this stage any time soon were incredibly remote to say the least. As Elvis Presley used to croon via the old tannoy at Leeds Road courtesy of The Shambles in The Packhorse Centre, "It's now or never".
Many independents described this as a tedious game with very little action, "the worst play off final in history". It certainly didn't feel that way to me in the stands, and I didn't care. My body jolted, and nerves jangled with every shot, tackle and ball into the box. It was torture. By the time 120 mins were up my nerve endings were absolutely shredded, my insides turned out. I wish I could have been as relaxed as the Reading fan attached to a heart rate monitor for the big screen who coasted through the game with his resting heart rate of around 60 bpm!
Post an initial Town flurry in the first 15 mins, the game had been akin to an apocalyptic movie. Town and Reading had pulled the shutters down and bordered up the windows, scared to venture too far in case of trouble. By now two and half hours of physical and mental torment had unravelled, yet neither side had managed to break through. Penalties loomed, and then arrived. Goals and misses were exchanged before a handsome Bavarian strode forward at the seasons crescendo. This once forgotten, downtrodden, self-deprecating club from West Yorkshire had spent the best part of 45 years quilted in misery and mediocrity, but all of that was then wiped away with one swipe of a German's boot.
I don't have the vocabulary to explain how I felt when the net rippled. There were several waves of emotions. Shock, pride, relief, happiness, excitement, but mostly shock. I looked around me as a mixture of limbs and tears flew across the atmosphere's horizon as grown men and women embraced, cried and danced with delight in an outpouring of exulted joy. Later the joy turned to amorousness as women across Kirklees were ensnared by 'The Christopher Schindler/David Wagner/Premier League (delete as appropriate) baby boom'. That also included my other half. We were both delighted to welcome a little boy into our lives last month and this also explains why this article has taken me so long! I hope that one day my little 5th generation Terrier will get to witness a year like 2017 and the celebrations we had.
What a year, what a time, what a club. #UTT
Finally I'd like to say thank you to everyone whose images/videos I have used. Often football fans are derided for picking up mobile phones and waving them around whilst a game is going on, but for me these snippets have only added to the grandeur of the year and helped many of us relive what was an incredible time.