17 for '17
Back on the 2nd of January 2017, Huddersfield Town scraped past an insipid Wigan side with a scrappy, late goal from Nahki Wells. The result maintained Town's position of 4th in The Championship but of the 4000 travelling Town fans that day, who of us could have predicted the absolutely incredible 12 months to follow?
As a Town fan of some 25+ years I would ordinarily struggle to put together 2 or 3 happy memories over a calendar year. However 2017 has left such a wonderful imprint that I think that I have probably just witnessed in 2017, the peak year in my Huddersfield Town football fandom.
Back on that bitterly cold late afternoon at the DW stadium in Wigan, Town were just about starting to submerge from a mid season slump and despite being 4th in the table were still being consistently written off or ignored by pundits, managers and fans of all clubs (bar the excellent @NTT20Pod). Social media had been rife with fans of rival (but not rivals) clubs posting images of cars crashing or with the wheels coming off and the belief amongst the Town faithful was diminishing a little. Perhaps rather like my aforementioned comment re 2017, Town fans thought the season had peaked early and the slow decline back to the natural comforts of mid to lower table was creeping in. Town strengthened with the signings of Izzy Brown and Collin Quaner, but a harsh defeat to Sheffield Wednesday at Hillsborough had Town dropping to 5th, but then came the magic.
So without further ado here are my top 17 moments of 2017 CUE THE MUSIC!!

17. Record Crowds
"New songs, new noise, new fans.
What an atmosphere at times."
Due to dour football, daft pricing, poor marketing and a lack of ambition the 2015/16 season saw Town's average attendance sink to 12,631. The locals were fed up, bored and in need of a recharge. For me, Town's attendances had always been a bit of a disappointment. Not with the people who turned up week in and week out, but because there had been so many missed opportunities in the past to increase our pool of fans. Town would always lose and play poorly whenever the club dropped the prices, had a big club roll into town or had some sort of promotion game. Any potential new fans were usually turned away by the turgid nonsense that the team would usually dredge up. Though there were always flash-points of potential going way back to 1994 when 28,000 Town fans made the trip to Wembley for the Autoglass Trophy Final - Town of course played poorly and lost on penalties. Town had a few big games against Birmingham in 1995 and 2001 in front of big crowds and lost both. 18,663 turned up for a League 2 game against Mansfield to great disappointment, and let's not bring back the memory of 33,000 Town fans at Old Trafford! Once, twice and thrice bitten casual Town fans were always there, it's just very difficult to tempt them back after years of mediocrity and false dawns.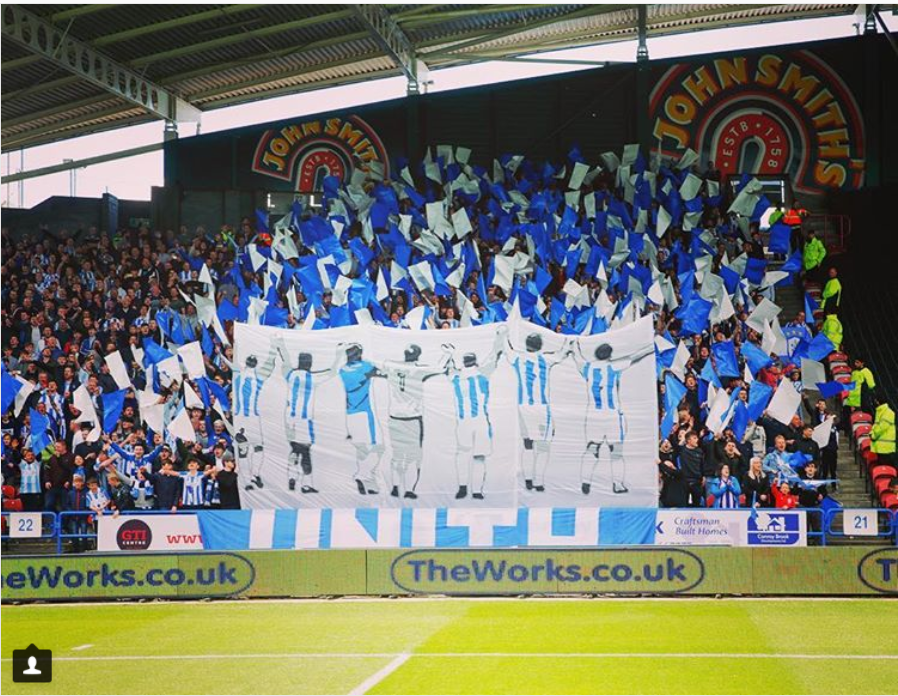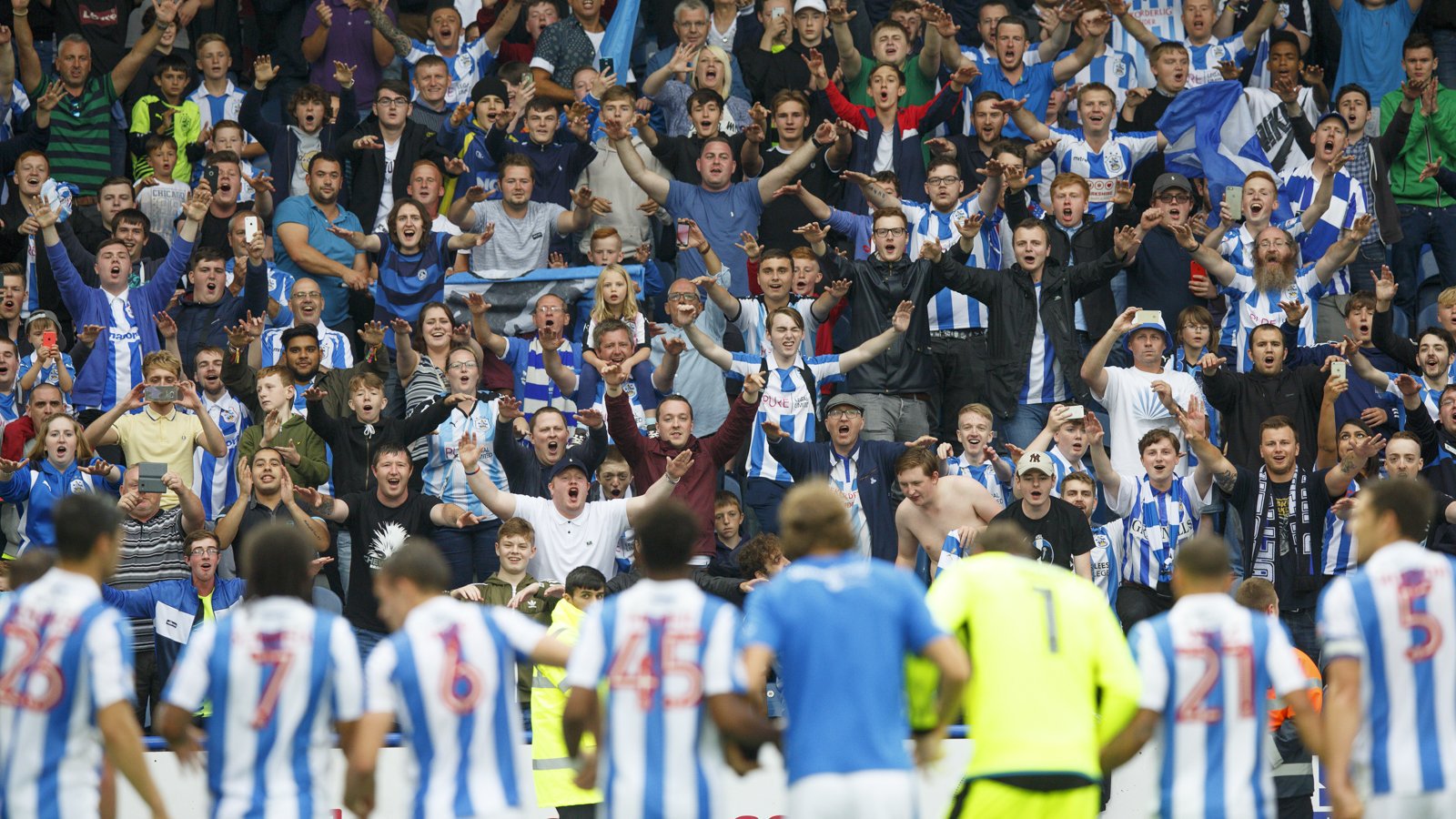 Click on the left or right of the pictures to view more.
The board having seen the need for change then implemented several new strategies which helped to bring harmony and good feeling back between the club and supporters. Those clamouring for "an end" were appeased when it was announced that the then North Stand Loyal group would be allowed to permanently reside within the South Stand. Further good news occurred in 2017, when Town consulted Norwich City and others and then implemented new rail segregation to allow more home fans into the stand. Cheaper pricing was also a big winner and combined with David Wagner's attacking and exciting "reactive pressure" the fans flocked back. 15,000 season ticket holders from 2016 increased further to over 20k for 2017 and season ticket waiting lists were created due to excess demand.
Seeing the crowds return and stay has been a real highlight over the last year, and when a new stadium attendance for football was set when Man City came for an FA Cup tie in February as 24,129 watched on, you could see that something special was starting to catch on. New songs, new noise, new fans. What an atmosphere at times!
It had been 46 years since Town last averaged over 20,000 in a league campaign, but after 20,583 visited for the final home game against Cardiff City it was confirmed that that milestone had finally been reached. Town finished the 2016/17 season with an average crowd of 20,343 their 11th highest of all time. Going forward there have already been discussions that should Town establish themselves within the Premier League, then the ground may need to be extended to allow for this new swell of support. Quite fantastic considering there were only 5,327 at my very first game in what now seems like an age ago.
16. signal of intent

"We're not in the Premier League only to say hello!"
When Dean Hoyle said on HTTV that "We're not here to say hello", the comment caused huge excitement on Social Media. The cynics in and among the Town fans had been adamant that the owner would bank the cash and that we would be relegated, cut adrift at the bottom. On the contrary, Town's exuberant chief would sanction some of the most exciting transfer activity in the clubs history whereby The Terriers would break their transfer record a reported 4 times in 11 days. Indeed, breaking transfer records is not something that you would associate with the frugal Huddersfield Town. This is a club that always preaches the values of 'doing things the right way' and one that always strives for transfer market value. It had taken the club 21 years to beat the 1.2m paid for Marcus Stewart, so to go out early in the Transfer Window and smash the 1.8m paid in the previous summer for Christopher Schindler was incredibly exciting for fans used to free transfers and cheap cast offs.
24/06/17: Transfer 1 The Belgian Bear (or builder if you prefer)
The fun begun 1 week before the Hoyle statement when Town first broke their transfer record paying 3.5m for Belgian International Laurent Depoitre. Town fans first got wind of the move a couple of days before, as Depoitre's agent posted the news via Twitter. Everybody's favourite Twitter mnemonic began reparations and the below videos circulated.
30/06/17: Transfer 2 The wizard of oz.
One player Town fans were desperate to see return was 2016/17 Player Of The Year Aaron Mooy. The Aussie, probably the finest technician that Town fans have seen since Frank Worthington gave a pretty nonchalant interview at the Play Off celebrations when asked of his prospects of a return. However, 1 month later Town fans would rejoice when The Pasty Pirlo returned.

04/07/17 - Ince had torn us apart...
Having run us ragged for first Blackpool and then Derby, Tom Ince was a welcome signing at the John Smiths Stadium. A player with a weighty surname who seemed hungry to prove himself in the Premier League, Ince signed for around 8m but with add ons that would take the deal north of what Town had paid for Aaron Mooy.

05/07/17 - Mounie for the record.
Town landed Benin International Steve Mounie for an initial fee of over 11m to finally set their new record. An exciting up and coming International player on his way to Huddersfield Town for a club record fee? Crazy, yet exciting times!
15. AND QUANER RAMS HOME THE REBOUND!!
"It was difficult but at the end we made it"
After 3 defeats in the previous 4 games, Town had started to look apprehensive, nervous and tired in their performances. A 4-0 drubbing by Bristol City, a shock late defeat to Burton and a run around from Nottingham Forest had Town fans questioning whether a late fall out of the play offs was a possibility. Town however, were still placed in 3rd but started poorly again against Preston. Aiden McGeady opened the scoring with a thunderbolt before Town wrestled back control through Kachunga and Jack Payne, only for it to look like Jordan Hugill had headed home a point for Preston with 10 minutes left. Hugill however was to turn from aerial weapon into well.. Just a weapon as he threw Kachunga to the ground in injury time and Town were given a chance to revive a toiling promotion push. After a long delay as Preston tried to stall, Aaron Mooy missed his spot kick. But then came Collin.
Click on the left or right of the pictures to view more
14. Zanka Claus gets the beers in
To some people this gesture probably wasn't a big deal, and many may be wondering why this makes 14th spot. After all, a Premier League footballer can easily afford a beer for around 2000 supporters right? Whereas that may be true, it was the symbolism which made me think that this was a special moment. Over the past 25 years I've seen many players come and go who have had little to no respect or affiliation for our club or supporter base. Whether that be Eddie Youds leading a player strike as the club struggled as it went into administration, whether it be James Vaughan refusing to do any work in the community because he couldn't be bothered, whether it was Anthony Gerrard picking fights with supporters on social media or Jacob Butterfield refusing to board a team bus because he wanted to move to Derby County, we've had some pillocks at the club. It works the other way too, I've seen players on the end of dogs abuse from supporters and I still remember Frank Sinclair charging out of the tunnel at Gillingham wanting to take on the entire away end as Phil Jevons was subjected to the wroth of the chaps who had made their way to the front. Since David Wagner took the reigns the connection between player and supporter has gone from strength to strength, so when a player bought us a pint because he loves the club and the support we give the team, well that's a great moment.